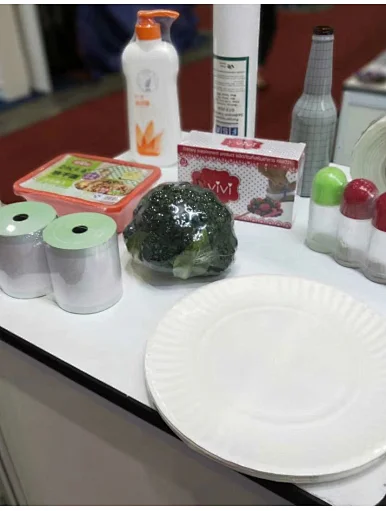 15mic regular Single would polyolefin shrink film packaging
YJ88
We are a reliable shrink film factory, providing products to customers all over the world, our polyolefin shrink film is known for its exceptional clarity, gloss, and consistent thickness. It is also cross-linked, which prevents buildup on the sealing components of machinery. Additionally, our polyolefin shrink film has a higher shrink temperature, is highly durable, has low shrink force, and provides excellent seal strength. This makes it an ideal choice for packaging food products. If you are interested in purchasing our polyolefin shrink film, please contact us for a quote.
Delivery:
EXW, FOB, CIF, DDU
Minimum order quantity:
20 kilograms
Supply Ability:
1000kilograms / Day
Wrap the film roll with transparent POF shrink film: dust-proof.
Put packed cartons on pallets, and wrap the pallets well by stretch film on pallet machines.
Put paperboard and plastic cover at two edges of the roll: protect the paper core and the edges of POF film.
Put the roll in one quality carton: protect the POF Shrink film.
Put packed cartons on pallets, and wrap the pallets well by stretch film on pallet machines.
​​​Put pallets in a container, use rope, and airbag to fix the pallets.
Standard Polyolefin Shrink Film  Physical Properties

Superior optics - Excellent gloss and sparkle with low haze and crystal clear clarity for enhanced appearance and product appeal; barcodes easily scanned, text and graphics intensified.
Tough - Co-extruded multi-layer construction offers ideal product protection against tampering and pilferage, maintains product integrity through the rigors of distribution and retail handling.
Recyclable - Totally recyclable and non-corrosive; no fume emissions.
Versatile - Ideal for packaging a variety of products from food and pharmaceuticals to stationery and games; may be used for packaging an infinite variety of sizes and shapes.
Easy To Use - Minimizes"dog ears"; features low shrink temperature and short dwell time; works on most types of equipment from manual L-sealers to automaic high speed wrappers.
FDA Approved - Certificates available upon request.
We carry POF shrink films / shrink wrap with many different unique features including: Multi-layer films for most industrial shrink film applications, cross linked shrink Film for stronger seals and better zipper strength, High Speed shrink film for automatic machine applications, and printed shrink film.